Spring Salmon are the first Salmon species to return into the Columbia River each year. These spring salmon are considered the best table fare amongst all salmon species. The water temperatures are still very chilly and the salmon have a long journey up the Columbia which is predominately why they retain all the belly fat and oil content. These fish can be sold in a retail store for $40-$50 a pound!
Learn more about the guided salmon fishing trips we offer in Astoria, OR!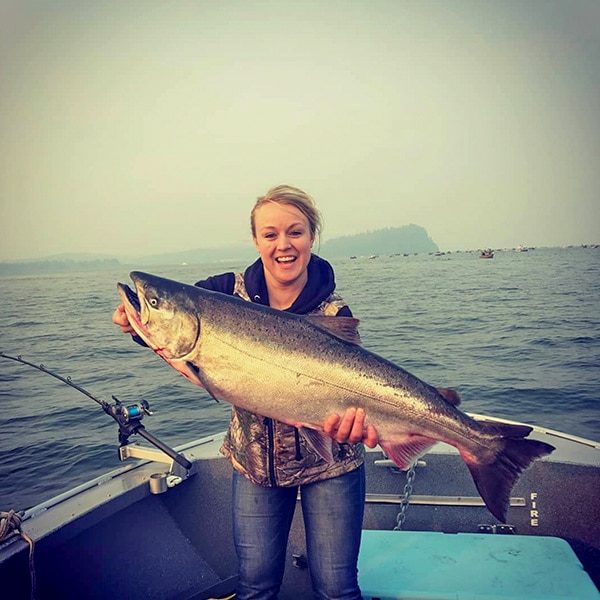 Columbia River Spring Salmon
2021 Season – All you need to know
ODFW has officially set the Columbia River spring chinook salmon season.
Opening on March 1, 2021, and closing on April 4th, 2021.
This will allow angling from the Bouy 10 line in Astoria Oregon upstream to beacon rock. In the previous 3 fishing seasons, the Columbia River hasn't seen enough returning salmon to warrant any lower river openers. With the Cowlitz river and Lewis River, spring salmon returns projected to show an uptick the powers at bee have granted a lower Columbia opener.
There are a couple of advantages of targeting spring salmon fishing in Astoria. First being, you are the first one to get a crack at these fish. Secondly, it allows you to follow the fish upstream and have multiple attempts at such a prized fish. Also, it should be noted that the lower in the river system you catch them, the better their meat quality is. "fresh out of the salt, fresh in the pan".
Salmon Fishing Techniques and Tactics
Typically there are two main techniques to use when fishing for spring salmon in Astoria, Oregon. Trolling fresh bait or sitting on anchor with a plug of some sort.
Both have moments of excellence. Depending on your skill level, anchor fishing with plugs usually speaks to novice anglers. Trolling fresh bait is more of a refined skill and normally only rewards the veteran anglers.
Plug Fishing Salmon
On anchor, with plugs, it's common to see people fishing with various sized Kwikfish (k13,k14,k15, and k16). Also, you might find that lots of anglers will be salmon fishing with Brad's killer fish (another plastic plug). There is an ever-lasting debate on which brand produces a more fishy product. This technique requires some patience. Typically yielding most of its action in the last hour of the tide and the first hour of the tide. The theory is if you are sitting in one spot and you have a good scent trail behind you the fish can track up your line.
Trolling Salmon
When fishermen decide to use fresh bait and troll they are under the idea that they can reach more fish by constantly moving and covering more ground. The most popular bait used while trolling for salmon in Astoria is Herring.
Green label herring is the most iconic bait known for spring salmon fishing. It's not uncommon to see anglers using either red label or blue label herring as well. Lots of fishermen will put their bait into some sort of brine the night before their salmon fishing trip. The brine will toughen up the bait, allow for changing the color, and offer some additional bite stimulants. This is where experience comes in. Salmon can be known to feed on certain different scents. Good Luck, getting someone to share their secret sauce. However there are lots of commercial additives that you can try ( smelly jelly, Procure, and mikes).
Trolling Salmon with a Spinner
Another technique would be trolling a spinner. Spinner fishing is considered to be targeting the sense of vibration. Salmon are attracted to vibrations and often confuse a spinner vibration with a school of baitfish. When fishing spring salmon in Astoria a good spinner would be a 3.5 colorado blade. This small blade offers a little presentation with lots of color variations. Adding a hoodie or skirt might enrich the action and entice more bites.
An opinion, not a fact, Spring salmon should be cut into steaks and not filleted out. Cutting them into steaks allows for a quick flash fry on each side and when seasoned properly it yields some of the most fantastic flavors. Here is a great salmon recipe to try.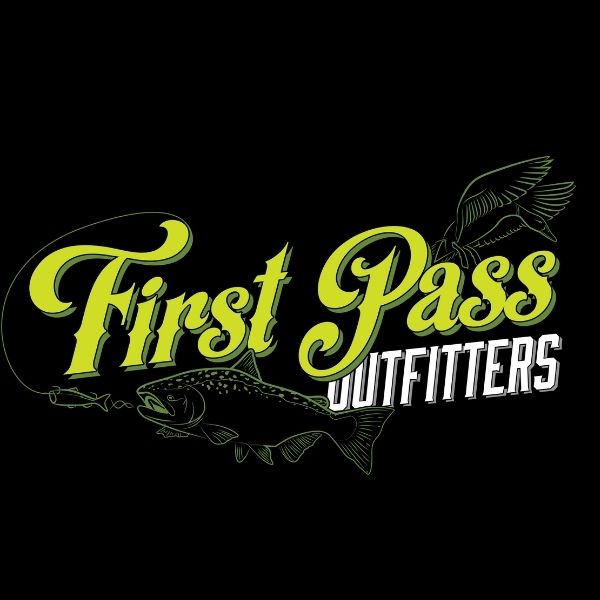 Consider a Guided Spring Salmon Fishing Trip
One option to enhance your chances of catching a spring salmon would be to hire a quality fishing guide or charter. We recommend using the best Astoria salmon fishing charter and guide First Pass Outfitters. They offer half-day and full-day charter trips with good results. Take advantage of instant booking online in real-time.
First Pass Outfitters has lots of experience fishing salmon in Astoria and will take you on a great adventure catering to your needs. They specialize in working with children and creating a wonderful safe friendly environment.
Spring salmon fishing can be somewhat of a humbling experience for most.
These fish are salmon, and they are schooling fish. Which means long periods of slow fishing and short bursts of action. If you don't capitalize on these short bursts you might be in for a long day. The weather can be cold and rainy and with miserably low temperatures in the 30's and 40's. This certainly isn't the fishery for the fair-weather fisherman.
All this being said, it is unlikely that these tough conditions will have any effect on anyone wanting to harvest a Spring chinook salmon out of the waters of Astoria, Oregon.