Sturgeon Fishing
Sturgeon fishing guide Curtis Bunney with First Pass Outfitters would love to have you on his Astoria, OR-based Columbia River Sturgeon fishing charter.
Sturgeon fishing is a personal favorite of First Pass Outfitter's Captain Curtis Bunney.  Let him guide your fishing trip to have the best chance to catch one of these prehistoric and highly sought-after fish.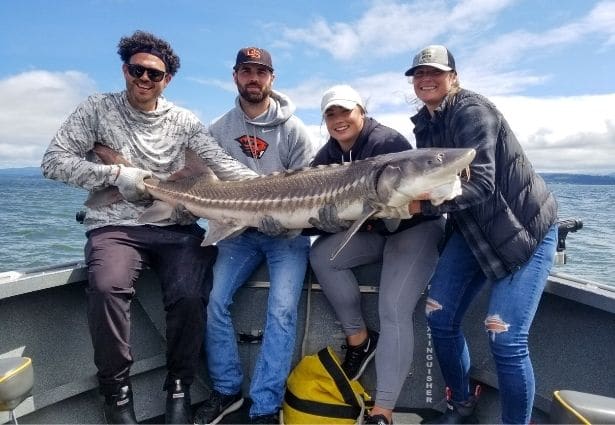 Sturgeon in the Columbia River
Sturgeon is the largest type of freshwater fish in North America!
You can keep White Sturgeon when it is keeper season, but you can never keep Green Sturgeon, they must be returned to the Columbia River after catching them.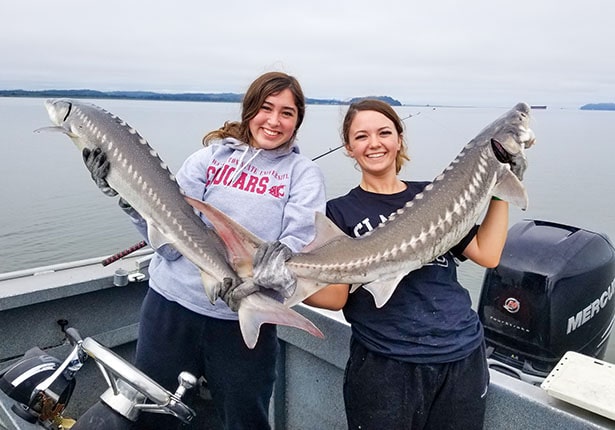 The History of Sturgeon
Sturgeon fish have been around since the age of dinosaurs! It is truly amazing we are still able to fish them today.
Sturgeon are known for their amazing sense of smell and taste.
Sturgeon Pricing
Per Person
$250 Per Person
(release | 4 or 8-hour trip)
Keeper fishing trip:
8-hour trip –
$250 is also the rate for anyone on the Sturgeon fishing trip, whether they are participating in the fishing or not for the full-day, 8-hour trip.  You can keep your catch on this trip!
Catch & release fishing:
4-hour trip –
$250 is the rate for anyone fishing on the full-day Sturgeon catch & release trip.  Non-fishers on the boat are only $200.
4-hour trip –
$225 is the rate for anyone fishing on the half-day Sturgeon catch & release trip with non-fishers only being $200.
Book a seat for yourself or your entire family of up to 6.
Please still read our what to bring information to recommendations on what else you should bring.
Proper licensing is required.  All licenses are available from all local tackle shops and other convenient locations including online.  Learn how to get licensed to fish on the Columbia River.
Sturgeon Pricing
Book The Boat
$1500 Books The Boat
(keep | 8-hour trip)
$1500 Books The Boat
(release | 8-hour trip)
$1350 Books The Boat
(release | 4-hour trip)
The boat seats up to 6 of your friends and family, including yourself.  You can have less in your party and still book the boat!
By booking the entire boat, you can enjoy a private crabbing trip with Curtis Bunney, the First Pass Outfitter captain.
Learn more about what to bring and what we provide below.  Proper licensing is required even for tourists to fish the Columbia River.  We play by the rules!
What you need to bring...
Most importantly anyone who would like to partake in fishing while on our boat needs to have a valid Oregon or Washington Fishing License and Harvest Card.  This is the law and we play by the rules!
Click here to learn more about getting licensed, it's easy and not expensive.
We recommend you bring lunch and drinks, and snacks if desired.
Other items you should consider bringing considering we will be on a boat and outdoors include sunscreen, sunglasses, a hat, chapstick, rain gear, and waterproof boots.
Bring a camera if you'd like to take photos or video.
Seasickness medicine is recommended if you know or think you may get seasick while on a boat.
We provide an ice chest for fish storage while on our boat.  If you'd like to transport fish back to your home or wherever you are staying on your visit to Astoria, please bring a cooler to properly transport your catch.
What we provide...
First and foremost we provide a licensed, experienced, and qualified caption to guide you on your trip.
Learn more about First Past Outfitters and Curtis Bunney.
We provide a family-friendly guided fishing tour of the Columbia River on a modern and safe boat.
We also supply all of the bait and all of the fishing gear.
We will also provide storage for your catch while on our boat and offer to clean your catch upon our return to the doc.
Sturgeon Charter Photo Gallery
Location
Columbia River | Astoria, OR

Half-day Sturgeon fishing trips are available.  They last 4 hours.  Morning & afternoon trips available!
Our full-day Sturgeon fishing trip lasts 8 hours & departs in the morning.
Best Time For This Trip
Late June-September
'In-Season' Rating By Month
May

20%

20%

June

40%

40%

July

60%

60%

August

80%

80%

September

50%

50%
Book Your Sturgeon Charter!
What are you waiting for?  We are ready to schedule your Astoria fishing trip on the Columbia River today!
Do not miss this Sturgeon fishing adventure of a lifetime with your captain Curtis Bunney and First Pass Outfitters.