Salmon Fishing
Buoy 10 in Astoria, Oregon, is the heart of the Oregon and Washington Chinook Fishery.  Every fish that goes up the Columbia River passes through this beautiful stretch that offers some of the best fishing in the world!
Summer/Fall 2023 Coho Salmon Fishing Charters – Astoria, OR, Buoy 10, Columbia River
Keep up to 3 fish from your trip!  And, if you get on our boat, you will be leaving with the 3 beautiful Coho Salmon!
Save your seat on the boat by booking your trip now before it is too late!  You must experience fishing in Astoria with First Pass Outfitters native captain Curtis Bunney.
Learn salmon fishing tips specific to the Columbia River and Astoria, Oregon, by reading the article recently written by the captain of First Pass Outfitters, Curtis Bunney.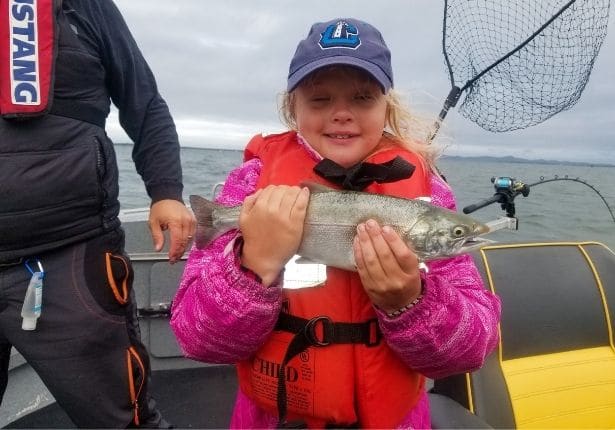 Coho 'Silver' Salmon
Silver Salmon are so much fun to fish. It's not uncommon to reel in 20-30 on a single fishing trip or to have multiple Coho Salmon biting your line at the same time!
Coho 'Silver' Salmon can range from 4-20 pounds.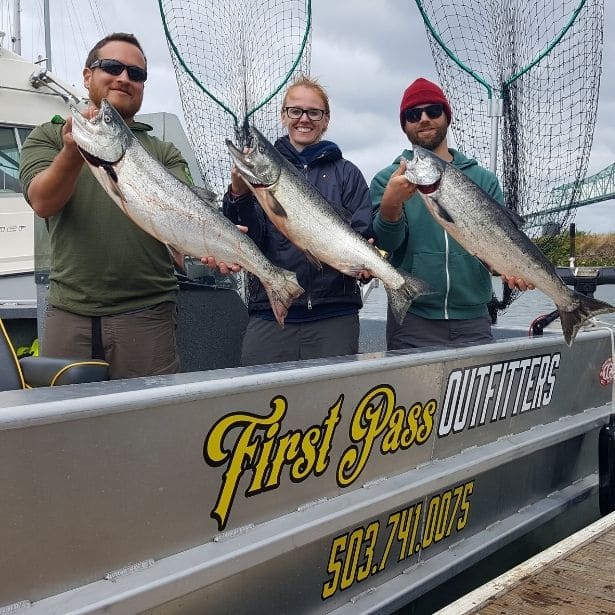 Chinook 'King' Salmon
The prized King Salmon is often our target when fishing for Salmon on the Columbia River.
Chinook Salmon can range from 8-40 pounds with an occasional scale tipper of 50 pounds!
Learn more about King Salmon fishing in Astoria.
Salmon Fishing Pricing
Per Person
$200/250 Per Person
It's $200 per person for our half-day (4-hour) guided Salmon fishing tours or $250 per person for the full-day (8-hour) Salmon fishing trip.
Your $250 payment saves your seat on our boat for the date you select for 8 full hours!
$225 per person for our half-day 4-hour trip.
Non-fishers are welcome, $200 per non-fisher.
It also includes us providing everything we will need to have a blast fishing for King Salmon and Silver Salmon on the Columbia River!
Salmon Fishing Pricing
Book The Boat
$1,500 Books The Boat
The boat seats up to 6 of your friends and family.  It is $250 per person and you get to enjoy a fishing adventure with your private party on our full-day 8-hour fishing trip.
$1,350 books the book for a 4-hour, half-day fishing charter.
Non-fishers are welcome at a rate of $200 per person.
Your $1,500 payment saves 6 seats with fishing for all on our boat for the date you select for an 8-hour fishing adventure.
All of the bait and fishing gear you will need to attract and catch salmon is included.
What you need to bring...
Most importantly anyone who would like to partake in fishing while on our boat needs to have a valid Oregon or Washington Fishing License, Columbia River Basin Endorsement, and Harvest Card.  This is the law and we play by the rules!
Learn how to get your licensing.
We recommend you bring lunch and drinks, and snacks if desired.
Other items you should consider bringing considering we will be on a boat and outdoors include sunscreen, sunglasses, a hat, chapstick, rain gear, and waterproof boots.
Bring a camera if you'd like to take photos or video.
Seasickness medicine is recommended if you know or think you may get seasick while on a boat.
We provide an ice chest for fish storage while on our boat.  If you'd like to transport fish back to your home or wherever you are staying on your visit to Astoria, please bring a cooler to properly transport your catch.
What we provide...
First and foremost we provide a licensed, experienced, and qualified caption to guide you on your trip.
Learn more about First Past Outfitters and Curtis Bunney.
We provide a family-friendly guided fishing tour of the Columbia River on a modern and safe boat.
We also supply all of the bait and all of the fishing gear.
We will also provide storage for your catch while on our boat and offer to clean your catch upon our return to the doc.
Salmon Charter Photo Gallery
Location
Columbia River | Astoria, OR

Half-day Salmon fishing trips are available.  They last 4 hours.  Morning & afternoon trips available!
Our full-day Salmon fishing trip lasts 8 hours & departs in the morning.
Best Time For This Trip
March-April for Spring Salmon and Late June-September 
'In-Season' Rating By Month
March

40%

40%

April

40%

40%

June

20%

20%

July

60%

60%

August

80%

80%

September

60%

60%
Book Your Fishing Charter!
What are you waiting for?  We are ready to schedule your Astoria fishing trip on the Columbia River today!
Do not miss this Salmon fishing adventure of a lifetime with your captain Curtis Bunney and First Pass Outfitters.

First Pass Outfitters Knows Salmon!
The famous Buoy 10 salmon fishery out of Astoria, Oregon provides an excellent opportunity for anglers to target the notorious Chinook (King) Salmon. Once you have hooked into one of these beauty's and felt the pulling power of a mighty King taking line off your reel, you will be hooked forever.
Fall salmon season opens on August 1 and can run into late September. In the first portion of the season, we will be mainly focusing on catching these large kings. Each incoming tide brings new batches of fish heading to the spawning grounds of Oregon, Washington, and Idaho.
The Chinook fishery is usually decent in early August and ramps up every day. By the middle of the month, King fishing is in full swing, producing lots of opportunities for limits of these prominent fish. Chinook Salmon can range from 8-40 pounds with an occasional scale tipper of 50 pounds.
When going after these majestic treasures, we will be using anchovies, herring, and custom made spinners. These fish are biters, so we base our approach depending on the weather and tide conditions. A lot of times it's a trial and error method to hone in on what the fish want that particular day.