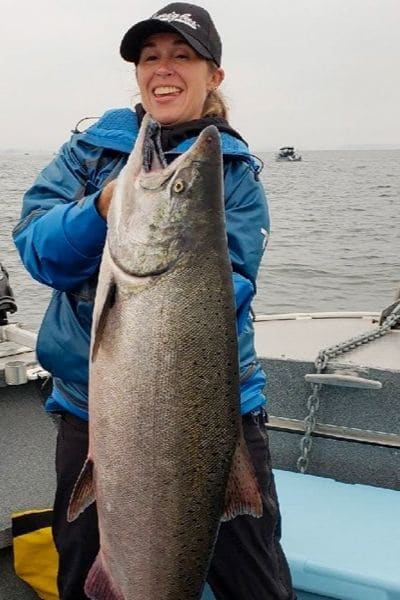 How to Get Your License For Fishing or Crabbing in Astoria, OR
First Pass Outfitters is happy to provide you with all of the information you need to get the proper licensing for your fishing or crabbing charter on the Columbia River. 
If you have not picked your charter and guide service, we'd love to show you a great time on the Columbia River while you are in Astoria!
Fishing and crabbing have different license requirements. 
Each is available in a 1-day pass or a 3-day pass to best suit your trip and to keep it as affordable as possible for all. 
If you are visiting,  you can purchase your license(s) from either state, Washington or Oregon.
Columbia River Fishing License
The requirements for fishing salmon, sturgeon, and steelhead include an angling license, harvest card, and Columbia basin endorsement.
1-day and 3-day passes are available.
Can purchase in WA or OR if visiting.
Columbia River Softshell License
The requirement for crabbing is a shellfish license.
1-day and 3-day passes are available.
Can purchase in WA or OR if visiting.
Get Your License Online
The Oregon Department of Fish & Wildlife does allow anyone to purchase their licenses online but it is a bit of a clunky process at the moment and you will need to create an account on their website to do so. Visit the ODFW website to purchase your licensing online and remember you can always purchase these at almost all bait and tackle shops in the area. We'll provide a list of several convenient locations to purchase your license if you are booking your trip with us.
You can also purchase a fishing or softshell license from the state of Washington if you are a non-resident of Oregon or Washington.  The Columbia River creates the border between the 2 states.  If you are visiting the area, you can get your licensing from either state.  Visit the Washington Department of Fish & Wildlife to learn more.
If you are a resident of either state, you will need to purchase your licensing from the state in which you live.  Also consider an annual license if you live in the area and plan on fishing or crabbing more than once per year.
6 Locations to Purchase Licensing in Person
Below are 6 locations we recommend to purchase the licensing you need for your trip with First Pass Outfitters.
Joe's Mobil
This is a Mobil gas station owned by Joe in which you can purchase your licenses.
1701 Marine Dr, Astoria, OR 97103
Fred Myers
This is a grocery store where you can purchase the licensing you will need.
695 US-101, Warrenton, OR 97146
Walmart Supercenter
Yep. Even Walmart offers all of the licenses you may need on your trip.
1791 SE Ensign Ln, Warrenton, OR 97146
Big 5 Sporting Goods
Big 5 Sporting Goods is a sport's equipment and apparel store that also sells licenses.
180 SE Neptune Dr B, Warrenton, OR 97146
Tackle Time Bait
Tackle Time Bait and many other tackle and bait shops offer licensing.
530 E Harbor Dr, Warrenton, OR 97146
Bud's RV Park & Campground
Bud's RV Park & Campground may be more convenient for you if you're staying along the Pacific Coast.
4412 US-101, Gearhart, OR 97138