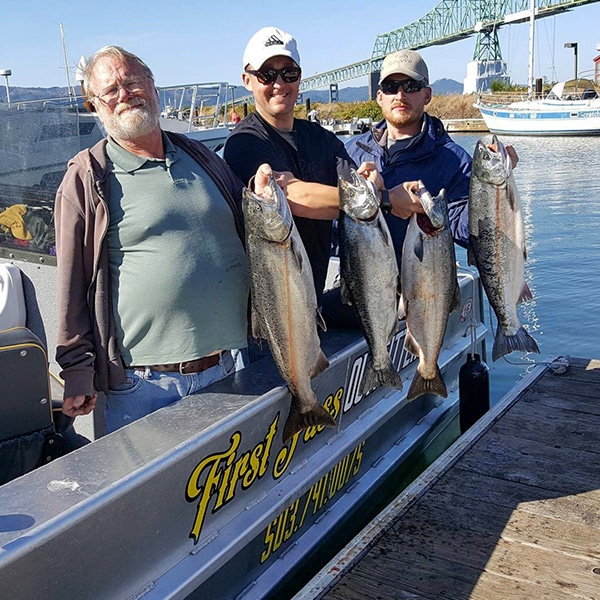 Directions To The Doc
Depending on which trip you book and the time of year you book your trip will depart from a specific boat doc.
You will be provided with the correct doc you will need to meet the captain at before your fishing or crabbing trip.
Skip to your fishing charter's dock:
The Port of Astoria's
West Mooring Basin
The Port of Astoria's West Basin Marina is the home to many seagoing vessels as well as guide and recreational vessels.
There is onsite restrooms, showers, and fuel facilities.
Parking is located on the west and south sides of the marina.
A $10.00 fee is associated with day parking.
The Astoria West Basin Marina is located beneath the large bridge to Washington (Astoria Megler Bridge).
General Info of West Basin Marina
The Port of Astoria's
East Mooring Basin
The Port of Astoria's East Basin Marina The port of Astoria's east mooring basin is stationed on the water when you first enter Astoria.
It's a well-maintained facility with a public restroom and a nice parking lot. The east basin is usually accompanied by lots of tourists seeking photos of the California Steller sea lion.
It is also the home of many commercial vessels. There is a $10.00 fee for using the boat launch and parking.
The Astoria East Basin Marina is located at the intersection of 36th Street and Leif Erickson, Astoria, OR.
General Info of East Basin Marina
John Day Boat Ramp
John day boat ramp is located approximately 5 miles east of Astoria on river mile 18.
This boat launch is equipped with full restrooms, grassy areas with pic-nice tables, and parking.
There will be a $5.00 per day use and parking cost.
This launch serves as a viewing spot for various wildlife such as ducks, geese, and even bald eagles.
General Info of John Day Boat Ramp
Westport Boat Ramp
Westport Boat Ramp is free to the public.
It offers a boat launch with wooden docks, outhouses, trash cans, and a clean gravel parking lot.
The Westport Boat Ramp is located in Clatskanie, OR 97016.
General Info of Westport Boat Ramp
Hammond Boat Marina
Hammond Boat Marina is located in the lower portion of the Columbia river. It is a very popular boat marina for recreational and commercial boats.
The parking lot is very large and is fully equipped with fillet tables and public restrooms.
There is a $10.00 ramp usage and parking fee. It is located in Warrenton, OR 97121.
General Info of Hammond Boat Marina
Rainier Boat Launch
Rainier Boat Launch Fees are $5.00 a day or an Annual Boat Launch Pass can be purchased from City Hall for $70.
The Boat Launch is located at the west end of town, next to the City Park.
This launch offers a paved ramed and a large parking lot. There are also onsite restrooms.
General Info of Rainier Boat Launch