Astoria Fishing Charter FAQ
Please read through the most common questions we receive at First Pass Outfitters regarding our fishing trips on the Columbia River out of Astoria, OR.  We've provided our best answers.
If you don't see the answer to your question, by all means, ask!  We are more than happy to answer any questions or clarify anything regarding booking a trip with First Pass Outfitters.
Please submit your questions via our contact form.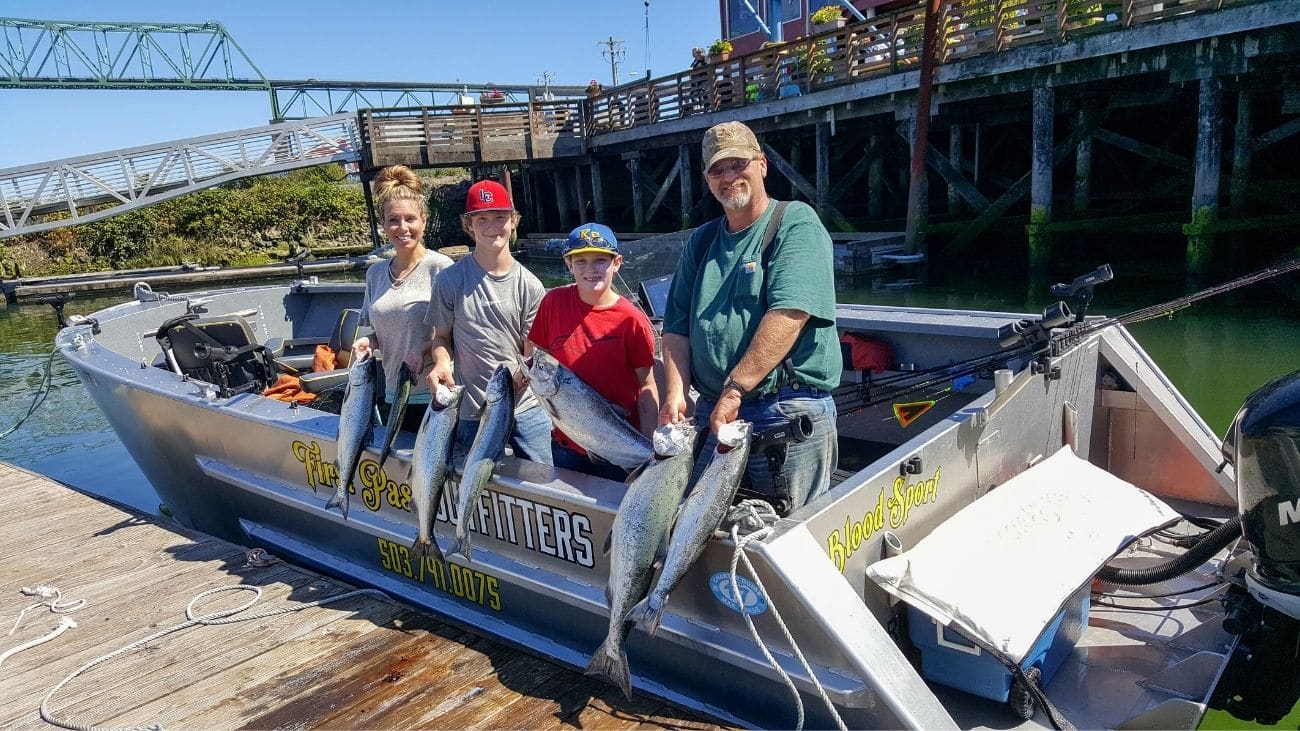 Do tourists (or anyone planning on fishing) need a fishing license?
Yes.  Learn how to get your fishing license here.
We follow all of the rules and regulations. If you would like to fish while on the boat, you will need a valid Oregon or Washington Fishing License and Harvest Card.  Crabbing requires less and different licensing.
Can I book online at any time?
Yes!  Book whenever and wherever you are from our website 24 hours a day, 7 days a week!
If online booking isn't for you, contact us to schedule your trip and get any and all of your questions answered beforehand.
What time and where does the boat depart from?
Often times we will depart at 6:00 am from various locations due to the weather and the tide. Call the night before for updated instructions. Please don't be late, give yourself plenty of time to make it to the destination. Sometimes that ten minutes can cost us a few fish. We want to have every opportunity to be as successful as possible.
How long do we fish for?
Most of our Astoria fishing charters are 8-hour fishing trips. However, many times we go over the 8 hours if the bite is just getting hot, or if we are yet to reach our limits.
We do have a couple of 4-hour half-day guided fishing tours too.
Browse all trip information including real-time availability here.  Once there, pick between our 8-hour or 4-hour trips, then select the dates you will be in Astoria to see availability.
How do we get our fish back home or to where we are staying?
At the completion of our trip, we will clean all fish and help you package them for your transit home. Typically, a large cooler or ice chest is your best option for keeping your catch fresh during your commute. We do provide an ice chest for cold fish storage while on the boat.
What if I have to use the restroom on the boat?
It all depends on the circumstances and the individual's comfort level. We generally fish within a 15 minute run to a restroom facility. We will gladly make a quick potty run if and when needed.
What do you provide?
We will provide the boat, the bait, and the fishing gear. We also supply the storage of our catch while on the boat and offer to clean the fish upon our return.
Learn more about what we provide here.
What do we need to bring?
Most importantly, anyone who wants to fish will need a valid Oregon or Washington Fishing License and Harvest Card, or a softshell license for crabbing.
Besides that must-have, we recommend you dress appropriately considering we will be outdoors and on a boat.
If you would like to take photos or videos, bring your camera or phone.
If you think you may get seasick, please bring medicine just in case.
Finally, if you'd like to transport your catch back to your home or wherever you are staying on your visit, we recommend you bring a cooler or ice chest to transport your catch.
Learn more about what else you can bring here.
Will my cell phone work on the boat?
Yes, it will!
How seriously is safety taken?
Very!  Safety is our #1 top priority.  Learn more about all of the safety measures we take and then learn more about our very safe and comfortable custom boat.
Can I see the boat?
Yes, you can!  Our boat is named Blood Sport.  From its custom 10′ wide stance for extra stability to the Bentley (yes, the same Bentley that makes $300,000+ luxury vehicles!) seats for extreme comfort,  we think you are going to love our boat.
Ask First Pass Outfitters Anything